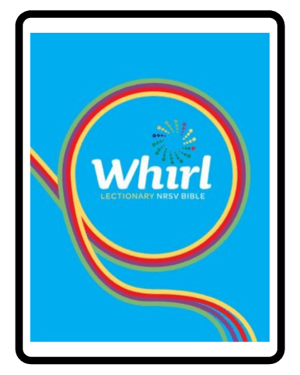 ABOUT THIS BIBLE
What's Inside: An NRSV translation of the Bible, plus book intros, feature content used in Whirl lessons, and hand drawn maps
Highlights: Through color, icons, and feature content, kids are introduced to Bible stories in visually-appealing ways. Each book intro introduces the book's audience, main message, and importance—and tells when it is read during the lectionary.
Design Features: Page through this colorful Bible to see all the lectionary readings of the three-year cycle. Every passage used is color coded, along with icons to show the specific year (A, B, or C) and Sunday when the reading is used.
Best for These Ages: Third through sixth grade
Pair with This Curriculum: Whirl Lectionary
A Great Gift: For anyone (kid or adult) who enjoys geeking out about the lectionary and the church year seasons.
To Learn More: Click HERE to look inside the Whirl Story Bible Lectionary Edition. Check out other Whirl resources HERE to see how you can nurture faith in children in preschool through grade six.
Fun Fact: Some Bible texts are read during more than one church year season, meaning that some passages are shaded in more than one color. Witness a triumph of graphic design with blends of green and purple (Psalm 51), gold and purple (Mark 1), and red and gold (Acts 2).

Thanks for reading about the Frolic First Bible. To learn more about other Sparkhouse Bibles, follow the hashtag #meetyourBible on social media.