I have a friend who has been telling a little fib to her children their entire lives: that church is closed in the summer. Locked up tight. No one there. My friend is a teacher and she truly does enjoy her summers off, from everything. She did have some explaining to do when her mother-in-law arrived and the kids explained why they weren't going to take Grandma to church Sunday morning.
Believe me—I get it. Summer is the goal. The prize for making it through another winter. The only cure for the memory of -30° temps and smell of wet snow boots. By the time summer arrives, I am just about ready to crack, despite attempting to not to be an over-scheduled parent of over-scheduled children. It is my firm belief that kids need downtime and the chance to be bored so their brains learn how to function without constant stimulus. As a rule, I only read scientific data that supports my theory. I have come around to my mom's 1970s summer parenting that in summer you go outside until you're hungry, you can't hold it, or someone is bleeding. Bona fide bleeding too, not just a scratch.
Summer & Church
So, when summer rolls around, I am the first parent to say grab a book and clear the schedule for the Summer of Nothing. And as a pastor, my thinking is not so different.
A lot of churches have spent the last 30-40 years trying to be all things to all people. We may have, at times, confused busy-ness with faithfulness. Programming is great when it builds community, equips discipleship, and teaches the faith, but it is not our salvation. With many churches dealing with smaller budgets and stretched staff, I want to give both planners and participants permission to take a break. And I hope the church will always be voice of reason in a world that preaches busy is better. Your churches are filled with great kids who are never going to be in the NBA or NFL or NIH (science camp people!) BUT they are being scheduled as if they were. The children among us will survive and even thrive if they and their parents learn the godly art of slowing down.
Focus on Community
What I will encourage you to focus on is community. Does it seem like half of your congregation heads out of town on weekends? Set up the lawn chairs on Tuesday nights. Throw a picnic and have an informal worship. Provide simple opportunities—like a weekly kickball game—for neighborhood kids with brown-bag lunches to take home, mindful that kids often have increased food insecurity over summer months. Open up the youth room (especially if it's in the well-cooled basement) for middle or high school kids and blast out a message on social media to come and chill out. Talk to your single parents and find out if an occasional event for younger kids would help them have a night to run errands.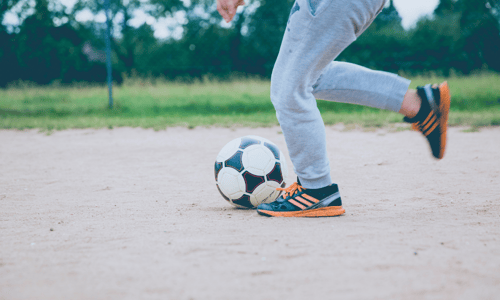 Meanwhile, for those who are traveling, find fun ways to help them keep in touch, such as:
Tag the church in a family selfie at a state or national park.
See how many pictures your grade-school kids can make their parents take of Flat Jesus.
Create a vacation-trip-tips booklet where those who have visited national parks or other parts of the country can offer helpful advice on things to see, do, and avoid.
Ask vacationers to collect bulletins from visiting other churches on their travels.
Have a postcard place in your gathering area so when someone asks where the people are who sit third row from the back, you can go check.
Remind families that when they are gone, they are missed.
In a world of too busy, let's let our churches be a little countercultural. Help your people relax over the summer and you will all welcome Rally Day with a sense of renewal.