My mailbox is bombarded with catalogs, postcards, and advertisements promoting the latest and greatest in preschool Sunday school curriculum and materials. All seek to catch my attention to make sure that the children at my church learn the Bible, grow in their faith, and have fun. I read some, toss some, file some for later review.
So, with all of this, why did I choose Frolic? What made Frolic's nursery and preschool curriculum the best choice for the infants, toddlers, preschoolers, and families I work with?
Catering to the most important part of your ministry
I served as director of youth ministry at Trinity UMC in Orrville, Ohio for seven years. In my youth ministry experiences, I recognized that the most meaningful ministry took place when adults and youth were interacting, discussing, and journeying together. Whether it was over dinner, in a mentor-mentee relationship, or on a mission trip, these connections had a lasting impact.
So, last fall when I moved into children's ministry, I knew the importance of child-adult interaction. I even crafted a mission statement for my interview that spoke to the necessity of equipping families to nurture children in the faith. But we all know that mission statements are only as strong as the actions that support them. This is where Frolic's nursery and preschool Sunday school curricula met my church's need.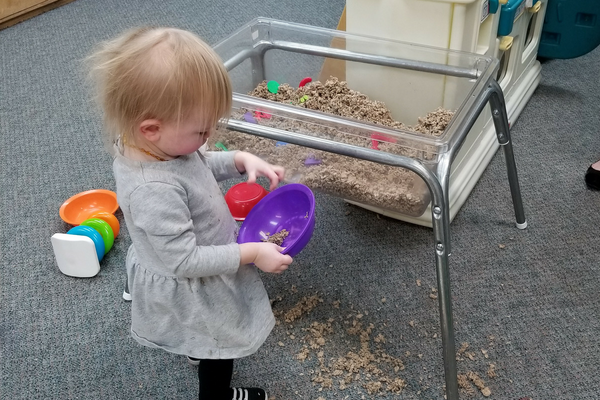 Frolic's track record of success
I heard success stories from a Methodist church in a neighboring community as they implemented Frolic as its preschool Sunday School curriculum. They shared their experiences with families playing their way through twenty Bible stories. Pictures of smiling children grabbed my interest.
I was especially moved when the children's ministry director shared that, as a result of the curriculum, some families were seeking ways to learn more about the Bible. They wanted to be better equipped to nurture their children. Suspecting that this wasn't an isolated circumstance, I began reviewing Frolic's nursery and preschool Sunday school curriculum.
The approach, which focuses on faith formation from birth by bringing children and parents together, impressed me. As an early childhood teacher, I appreciated the focus on age appropriate activities. I saw the opportunity for great parental support which would foster their child's spiritual development. The music, the posters, the e-newsletters and the accessibility of the text in the Frolic Bibles completely won me over. I had to try it at Trinity.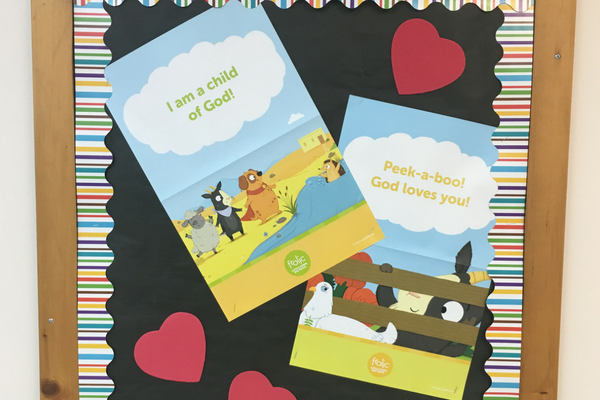 Implementing a new system
I used Frolic in several settings. First, I 'redecorated' the toddler room with the Frolic Nursery and Bible Posters. I began trying the stories and some of the stations with the two-year-olds and their moms in my Tiny Tots program that met on Fridays at Trinity Christian Preschool. Then I launched it at our Thursday Winter Community Nights. You can read more about that experience in my previous blog post. But spoiler alert: it was a big hit!
I'm delighted with the results. We have moved well past babysitting. We are now able to offer meaningful parent-child playtime that equips families "to extend faith from church to home." Frolic works for my church! It is one of the keys to our mission of building Christian homes by equipping families to nurture their children in the faith. I would encourage anyone to do the research and invest in a curriculum that provides you similarly glowing results. You won't regret finding something that is right for your congregation.