"They devoted themselves to the apostles' teaching and fellowship, to the breaking of bread and the prayers." – Acts 2:42
Whether reading about the early church in the book of Acts or exploring the work of present-day Christian writers, we are reminded that relationships are at the core of a vibrant church community. As a children's ministry leader, I believe an important part of my responsibility is to create a culture of belonging for children and their parents. I feel called to offer activities and events where families have the opportunity to build authentic relationships with each other in a God-centered atmosphere.
The challenge is to develop meaningful activities and events that are doable for busy, often exhausted families. This may mean using times that families have already carved out for "God time" such as the Sunday school hour or immediately following Sunday morning activities. My church has had success scheduling evening events between school sports seasons. We have found that it is imperative to give families dates well in advance so they can reserve time in their hectic lives.
Additionally, it is important that events are designed to give families rest and respite. Families appreciate a break from the daily routine with non-threatening opportunities to interact with others in a similar season of life. It is important to note that we also develop events to support relationships across the generations, but we have found it crucial to intentionally nurture connections among families that are in the child-rearing trenches.
The path to developing this kind of event is not always straight
My church tried numerous times to organize a family retreat at a campsite on a Friday evening into Saturday afternoon. Everyone thought it sounded like a great idea, until it was time to register. Suddenly, families realized that they had a million other things going on. As a result, we were unable to get a critical mass to have a successful retreat. We continued to look for ways to bring families together to fellowship and worship.
Last fall, we decided to take a portion of the retreat (the campfire) and offer it at the church for two hours on a November evening for families with children from birth through twelfth grade.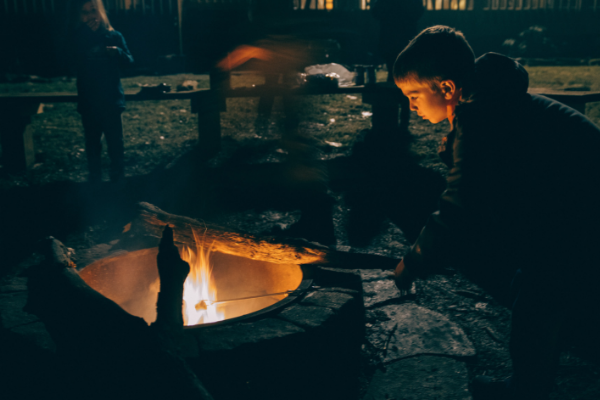 To begin the evening, families made Gratitude Trees using mason jars, sticks, and twinkle lights. Paper leaves were added as family members wrote what they were grateful for on each leaf. The group then ate dinner, made s'mores over a campfire, sang campfire songs, and worshiped. As families were leaving, they received Gratitude Calendars to use throughout November.
What families thought
At the end of the evening, a family approached me to tell me how much they appreciated having time to talk as a family during the craft. Others told me that they loved worshiping, singing, and chatting with other families around the campfire. In later weeks, children told me all about how they were using their Gratitude Calendars.
These comments assured me that many families appreciate the chance to relax, worship, and connect with others. It is my prayer that these connections foster and strengthen relationships with God, among family members, and with other families to build up the body of Christ.
Use this story as an example of successful connection, not just within a family but as a church community as well. The Bible mentions relationships again and again, meaning it is vital in our faith journey. Think about this as you plan events for your families, allowing time for them to meet and greet each other as well as time with their own family. This will strengthen your church in leaps and bounds.
If you have any other successful family event where relationships were fortified, please let us know in the comments!