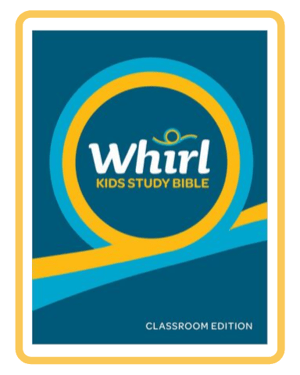 ABOUT THIS BIBLE
What's Inside: An NRSV translation of the Bible, plus feature content throughout its page that is hosted by four Whirl characters: Leo, Mimi, Ruby, and Gabe.
Highlights: Each book intro features a 4-panel comic with the Whirl characters to help engage kids in learning more about their Bibles. The characters also show up throughout the Bible's pages with humor, encouragement, and insights. The Bible is a big book—why not get some help navigating it from these trusted characters?
Design Features: Kids will recognize the Whirl kids from the animated videos. Shaded Bible text matches the color of the character in the margin who's asking a question, defining a word, or making a connection.
Best for These Ages: Third through sixth grade
Pair with This Curriculum: Whirl Classroom and Whirl All Kids
A Great Gift: For third graders ready to graduate from story Bibles to a full-text Bible
To Learn More: Click HERE to look inside the Whirl Story Bible Lectionary Edition. Check out other Whirl resources HERE to see how you can nurture faith in children in preschool through grade six.
Fun Fact: To develop the 66 comics at the beginning of each book, the development team met with a theologian and a scriptwriter several times to come up with the concept for each one. Those were fun meetings!

Thanks for reading about the Frolic First Bible. To learn more about other Sparkhouse Bibles, follow the hashtag #meetyourBible on social media.