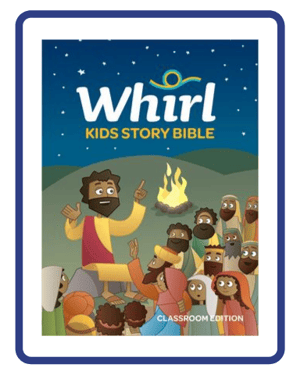 ABOUT THIS BIBLE
What's Inside: 104 Bible story retellings based on 38 Old Testament and 66 New Testament texts
Highlights: Each 4-page retelling follows the same format: story text on the left page and illustrations on the right. Prereaders can follow the story's action as they hear it read. Older kids get context clues (and a dose of humor) from Ada and Otto's comments.
Illustrations: The graphic novel format inspired this Bible's design. Every story has several panels of illustrations so kids can follow the action.
Best for These Ages: Preschool through second grade
Pair with This Curriculum: Whirl Classroom and Whirl All Kids
A Great Gift: For three-year-olds just entering Sunday school
To Learn More: Click HERE to look inside the Whirl Story Bible Lectionary Edition. Check out other Whirl resources HERE to see how you can nurture faith in children in preschool through grade six.
Fun Fact: Every story has a colorful border that corresponds to a section of the Bible, from the Pentateuch to Letters. Why not use color to help build biblical literacy?

Thanks for reading about the Frolic First Bible. To learn more about other Sparkhouse Bibles, follow the hashtag #meetyourBible on social media.