During the preschool years, our brains are developing at a rapid rate – in fact, 90 percent of a child's brain develops by age five.
For children's ministry leaders, teaching faith to little ones can help establish a foundation of faith that lasts for a lifetime.
However, how DO you do that? What are the techniques that you should employ? And, what are the age-appropriate activities that you should include?
With Christmas just around the corner, here are a few tips on how to teach Christmas to preschoolers to meet them where they are – and build cognitive understanding now and for years to come.
Share the story in a context they understand
Often times, curriculum for preschoolers comes with your Sunday school options – and this doesn't offer the best solution for your preschoolers to truly learn these faith concepts.
Focus on finding a preschool Christmas lesson that gives your preschoolers an opportunity to learn at a level that they understand. At this age, preschoolers learn best through play – interacting with activities can help them learn the concepts.
Give them an opportunity to experience the story of Jesus' birth by creating play spaces, like creating a manger scene where they can use figures to retell the story.
Focus on repetition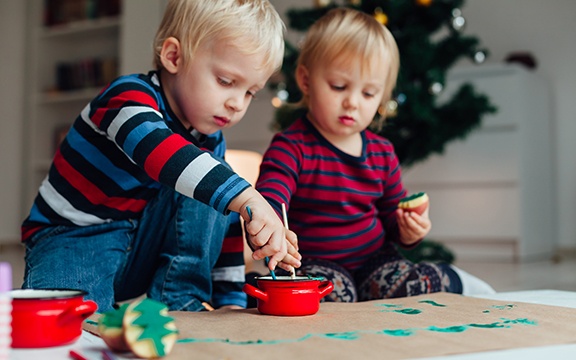 For leaders, repetition can drive us crazy. Do I really have to say that one more time?
However, as Zig Ziglar once said, "repetition is the mother of learning, the father of action, which makes it the architect of accomplishment."
Little minds thrive on repetition! It helps to create connections in the brain to help them learn, especially when it may be a topic more complex for them. Throughout your preschool Christmas lesson, focus on repeating key Bible story elements so they can grasp the faith concept at hand.
Give them a connection point
Whether it's through a Bible or a storyworld (or even both!), help preschoolers build meaning through characters with whom they can understand and identify. The Frolic Preschool Christmas Lesson, for instance, centers on Rufus – a character in the Frolic storyworld – as he experiences Jesus' birth and gives context to preschoolers about what it means to share what we have, even when we don't have much.
Building this connection point in your preschool Christmas lesson helps young minds grow in their faith. Combined with age-appropriate play spaces and repetition, you can create an experience that will build a faith foundation.
This November, purchase your two-week Frolic Preschool Christmas Lesson Starter Kit for just $17.99 and get free shipping with NOVSHIP!