For the first time, I had the opportunity to join 30,000 leaders and students at last week's 2018 ELCA Youth Gathering in Houston. There were so many incredible moments that happened at the five-day event (which, this year was appropriately themed "This Changes Everything"). Many attendees, myself included, were impacted, changed, and uplifted. As I reflect on the time, I thought it'd be fun to share a few of my favorite moments: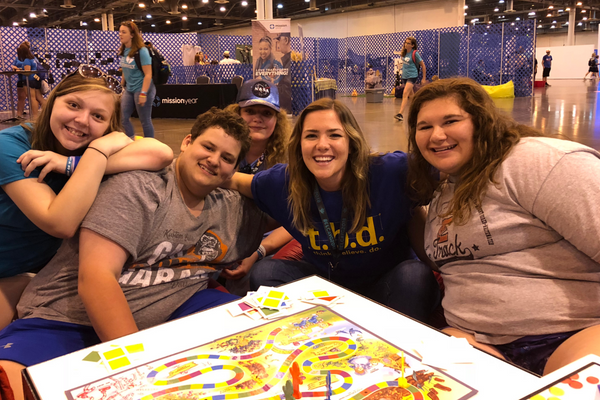 Meeting YOU!
Stationed in the Sparkhouse booth, I had the opportunity to meet many wonderful workers for Christ. The thing about Youth Gathering that I didn't expect were the deep moments of connection. Adult conversations can be short lived with thousands of students being watched over by leaders, yet people were quick to share the struggles and triumphs of their ministry life. I loved the transparency and genuine nature of the people I met. It was an honor to understand, learn from, and get to worship with people from all over the country.
My faith is …
Inspired by our latest youth resource, T.B.D., we invited students to ponder what their faith means to them. It was an incredibly powerful experience. Alongside my team, I got to encourage youth to think and write on postcards finishing the phrase, "My faith is … ". Students then took pictures with their friends and pinned their postcard to a corkboard as a public declaration of their faith. I loved seeing a wall filled with the sentiments of youth exploring and discovering what their faith means to them. Statements varied from, "My faith is … New … But I'm excited," to phrases like, "My Faith Is … Everything to me."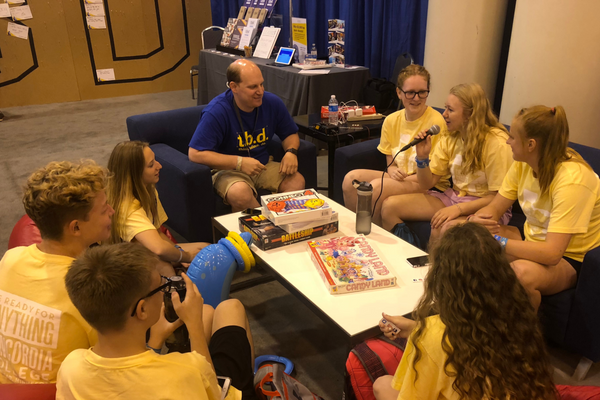 Student interactions
The thing I love about students is that one moment you can be talking about a deep matter of faith and the next you are cracking a silly joke that has nothing to do with the conversation. They don't take life too seriously and I came home feeling inspired by their fun-loving nature for life. My colleague, Bryan, also interviewed several students on our Youth Ministry Podcast to share some of their Youth Gathering experiences. Check out those interviews here!
Meeting our giveaway winner
I was stoked to find out that we were going to donate $2,000 to one lucky church to further the mission of their congregation. We had over 500 people sign up for our giveaway and I got to randomly select the winner, Anne Strasser of Faith Lutheran Church. Giddy with excitement, I gave Anne a call and she was excited by her winnings! Giving away $2,000 was such a rush. Watch her reaction video here!
My colleagues and I enjoyed meeting all the wonderful people who stopped by our booth in Houston. From witnessing the faith declarations of youth to discussing church curriculum, it was all a pleasure. We're excited to see everyone in Minneapolis for the 2021 ELCA Youth Gathering!
Want to see some of our favorite moments in action? Watch our 2018 ELCA Youth Gathering highlight reel!