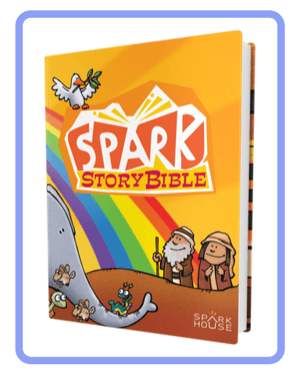 ABOUT THIS BIBLE
What's Inside: 150 Bible story retellings based on 46 Old Testament and 104 New Testament texts
Highlights: As this Bible was developed, the development team met to read every story out loud multiple times to make sure vocabulary, grammar, and flow would be a delight to say aloud. (They had a lot of meetings.)
Illustrations: Artist Peter Grosshauser created a vivid storyworld incorporating captivating colors, lively people, and some humorous takes on stories. (Martha on page 368 is a favorite.) And kids love finding Squiggles the caterpillar on every spread.
Best for These Ages: Preschool through second grade
Pair with This Curriculum: Spark Lectionary, Spark Classroom, Spark Rotation, and Spark All Kids
A Great Gift: For 3-year-olds just beginning Sunday school
To Learn More: Click HERE to look inside the Spark Story Bible. Check out other Spark resources HERE to see how you can nurture faith in children ages two through grade six.
Fun Fact: Squiggles was included in the Spark Story Bible to give young children emotional cues about the story. If you check out his facial and body expressions in each story, you'll see him doing just that. Turns out Squiggles appeals to more than just the young children.

Thanks for reading about the Frolic First Bible. To learn more about other Sparkhouse Bibles, follow the hashtag #meetyourBible on social media.