After graduating from college, I volunteered with AmeriCorps VISTA at a refugee resettlement agency in Minneapolis. In my cubicle hung a poster, "In the Name of These Refugees," originally printed by the Episcopal Church's Southern Diocese of Ohio in 1938, urging the church to respond to the Jewish refugee crisis coming out of Europe.
The poster depicts Mary cradling baby Jesus as she rides a donkey, her husband Joseph turning to watch behind them. It's night and there is a sense of urgency and desperation in this image, as they flee Herod's violence for safety in another country – Egypt.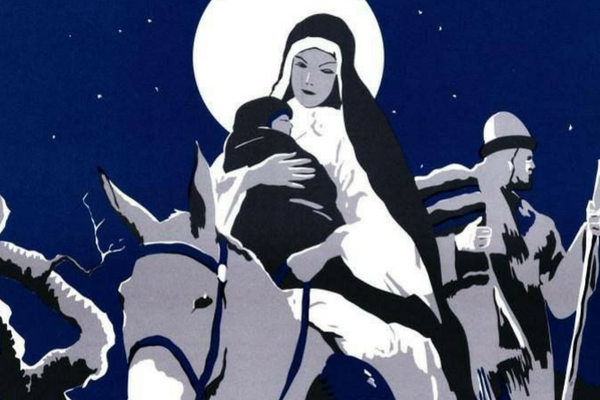 In 1938, over 340,000 Jewish people had been forced out of Germany and Austria; 100,000 of whom found refuge in other European countries that were later conquered by Germany. Most of these people were killed. Hundreds of thousands sought refuge in other parts of Europe and the United States. Only a fraction were admitted. Americans feared the Jewish refugees who were seeking asylum from the Nazis and resisted the idea of welcoming them to America. By 1941, emigration was forbidden in Germany and Austria. Most of the Jewish people who remained were killed in concentration camps.
And this doesn't account for the millions of other people who were displaced from their homes in Europe due to war and violence.
During this time, churches in America sprang into action to respond to this crisis. Before there was a United Nations (UN) Refugee Convention, and before there was the United States Refugee Program, church-led organizations like Church World Service were working to resettle refugees.
In the story of the church and the story of God, from the Old Testament to the New Testament, the message is the same: God cares for the powerless and vulnerable and wants us to do the same.
Today, we're facing the largest refugee crisis since World War II. There are currently 68.5 million people who have been forcibly displaced from their homes due to violence and persecution, 25.4 million who are classified as refugees by the United Nations. Two-thirds of all refugees come from just five countries: Syria, Afghanistan, South Sudan, Myanmar (Burma), and Somalia.
Who is a Refugee?
According to the UN, a refugee is someone who has been forced to flee their country because of persecution, war or violence. A refugee has a well-founded fear of persecution for reasons of race, religion, nationality, political opinion or membership in a particular social group. Most likely, they cannot return home or are afraid to do so. War and ethnic, tribal, and religious violence are leading causes of refugees fleeing their countries.
To this day, five of the nine voluntary organizations that partner with the U.S. government to resettle refugees are Christian or church-denomination based. Individual Christians and congregations around the country play a huge role in making this possible.
So what can ordinary churches do to respond?
Based on my experience working with refugees, both professionally and with my church, I recommend five ways to get involved in welcoming refugees:
1. Connect with a local refugee resettlement agency or an organization that serves refugees already here. Find out how a group from your church can volunteer. Your group could help a new family get settled by setting up their home, collecting furniture and household goods, driving them to appointments, and practicing English.
2. Start a community garden on your church property and invite locals who came to the U.S. as refugees to garden there. This has been a powerful way for many former refugees to have access to healthy food, reconnect to their agricultural roots, and find healing and community.
3. Take a special offering or run a fundraising campaign to donate money to a local or national organization that serves refugees. Church World Service, World Relief, Episcopal Migration Ministries, Catholic Charities, and Lutheran Immigration and Refugee Service are all organizations to consider.
4. Regularly include refugees in your congregational prayers and encourage the families in your church to pray at home, too. When we pray for refugees, we join God in communicating this love.
5. Inform your church and surrounding community by inviting a speaker from a refugee organization or hosting a series of conversations on the topic. Getting the conversation started can bring awareness to your community. It can be a tough discussion, as people typically have differing opinions on the topic, but leveraging resources designed to facilitate these conversations gives you the right tools to get started.