This week as we get ready for the final Sunday in Advent and to celebrate Jesus' birth, we are bringing you a moment of… to celebrate the reason for the season. Check back daily for new daily devotions, prayers, and inspiration.
With Christmas comes an overarching message of hope – in the hands of a child.
For many generations, God's people had prayed for a Messiah – a promised one who would unite Israel, throw off its oppressors, and restore the nation to its former glory. Surely God would send a powerful warrior king.
Instead, God sent a baby who slipped quietly into the world in a vulnerable way – the messy, usual way.
God could have entered into the world in a burning fire, out of the mouth of an elephant, or rising up from the Dead Sea. But God chose to be born as a baby who would challenge the powers of the world without ever lifting a sword.
There was no palace or royal fanfare; the Messiah's birth happened in curiously lowly surroundings. Instead of the kings and priests, the angels announced Jesus' birth first to poor, smelly shepherds.
The world's deep night is shattered by the light of God's new day. This was the beginning of a pattern and a sign that the people's understanding of the world was going to change. God comes to earth to experience all that humanity has to offer and ultimately to show us what sacrifice, love, and living are meant to look like.
The story of Jesus' birth gave hope to people 2,000 years ago, and it still gives hope to people today. This is a story so full of hope that we can know we are never alone. God is with us – not just God around us, or God among us, but God with us – on Christmas and always – through Jesus, who came to us as a little baby.
God knows us, understands us, and lives among us.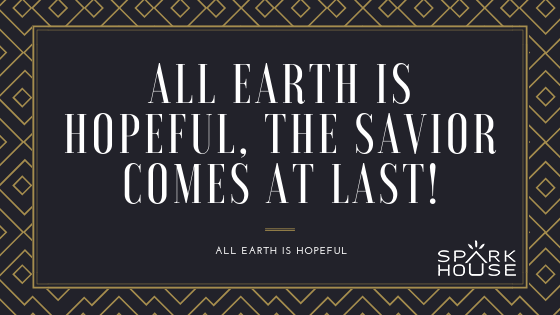 Share the hope of Christ.
God the Creator who delights in you,
Jesus the Savior who is born for you,
and the lifegiving Spirit who shines on you,
bless you and keep you in love and hope.
Amen.