Many of us have lost friends and loved ones as a result of COVID-19. So many people have had their economic stability upended. The pandemic has been horrible. And yet, even now, there are blessings to be found. One unexpected benefit is that the pandemic has given us a chance to re-order our priorities. Will those changes stick? I hope that our churches can be part of the conversation, reminding the world not to waste the wisdom gleaned from a time of pandemic. Like what? Glad you asked.
We are all connected—whether we like it or not. Someone exhales in Asia or Italy and their breath in time becomes intermingled with mine. No human walls or borders can separate us; we are one humanity. We are all God's children. Please, let's start acting like it.

The simple pleasures in life are the stuff of contentment. Books! Pets! Baking! Gardening! Birds singing! Having enough toilet paper but not so much that you feel like a jerk!
I kind of like my family; hope you do too. It was good to spend time together. We had an awesome on-going indoor badminton game; turns out, we talk a lot when we're firing birdies at each other. PS: indoor tennis didn't work. Sorry about the dent, microwave.
While I don't wish anyone working retail to be out of a job, not being able to waltz into my favorite shops to spend money on more stuff I don't need was a good thing for me. Retail therapy was replaced by running therapy. My wallet, my head, and even my middle-aged mom-bod benefitted.
Keep caring about whether others have enough. Share. Volunteer. Give. My dear neighbor Loan who loves to cook devised a plan with a friend to provide take-out meals once a week in exchange for donations to the local food pantry. They raised hundreds of dollars every week! Help advocate for local, state, and federal safety nets for those living lives filled with anxiety about what the day will bring. If you don't have to wonder how to feed your children, make sure no one else does either.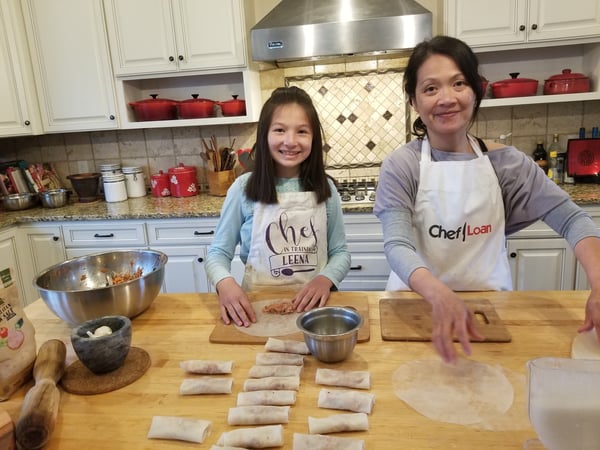 Photo courtesy of Loan Rathgeber. Used with permission.
We need each other. Being isolated from others has wreaked havoc on mental health. We are designed for community, for human closeness. Let's not forget that when the world is moving again. There have always been isolated people to reach out to. Make nursing home visits something you do regularity, once it's safe for people to come and go from congregate care settings. Go see loved ones and old neighbors and consider going to a nursing home and asking who doesn't get visitors. You will be surprised how gratifying it is for you.
Going to worship with other people is awesome! We took it for granted until it was suddenly gone. When the time is right, pack our churches full. Even the front pews. Remembering how it felt to be separated from your worshipping community, help provide worship services in nursing homes and assisted living facilities too once it's safe to do so.
And finally, be thankful. We've taken the work of so many for granted. Teachers, WE LOVE YOU. Please forgive us and take our children back! Be grateful for shelf stockers, farmers, mail carriers, hospital cleaning staff, sanitation workers, restaurant employees . . . the list goes on and on and circles back to how intertwined we are, how we are made for community, and how we need each other.
Let's be different after this. Let's be better.