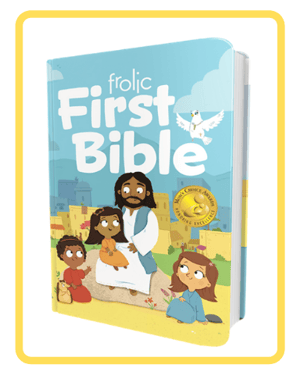 ABOUT THIS BIBLE
What's Inside: A message for parents and 20 illustrated Bible stories (10 Old, 10 New)
Highlights: Each 60-word story spans two pages with a takeaway statement at the end. Simple story retellings introduce little ones to stories about God's people and Jesus. The puffy cover and board book pages invite little fingers to explore.
Illustrations: Simple, warm images of friendly people and animals drawn by artist Natasha Rimmington
Best for These Ages: Babies and toddlers
Pair with This Curriculum: Frolic Family and Frolic Nursery
A Great Gift: For expectant parents, new babies, and baptisms
To Learn More: Click HERE to look inside the Frolic First Bible. Check out other Frolic resources HERE to see how you can nurture faith in little ones with parent-child classes, church nursery resources, and more.
Thanks for reading about the Frolic First Bible. To learn more about other Sparkhouse Bibles, follow the hashtag #meetyourBible on social media.
Quiz Answer: How many Bibles has Sparkhouse published since 2009? Eleven!