When asked to write a blog post on devotions, I immediately thought "no way!" It felt like writing a blog post on healthy eating as I was spooning hot chocolate powder directly into my mouth. (Mmmmm, tiny marshmallows.)
I mean, I've tried. Conferences, retreats, and spiritual direction groups.
Barf.
Doing the Lectio Divina for hours made me want to run around screaming.
Walking prayer labyrinths gives me vertigo.
I got kicked out of meditation class.
I didn't mind the silent retreat until I discovered "silent" was also understood as "not much coffee."
Fasting? Please. You do not want to do that to my family.
It's not that there's anything wrong with these forms of devotion; they just don't fit my personal needs.
Does that mean there's no way for people like me to incorporate devotion to God into daily life? (It would be a little shorter blog if the answer to that was yes.) But, alas, the answer is no. There are absolutely other ways, and they will vary from person to person. These are just a few of the scruffy forms of devotion that have worked for me.
Start the day out right
With coffee.
And scripture.
When I ascertain that both of my offspring have at least two limbs out of bed, I pour a cup and grab my phone. I go straight to my email and ignore all news and emails except two: The scripture texts for the day and a daily devotion written in a down-to-earth writing style I find appealing.
The Moravians have a handy email sign-up for their devotion. God and caffeine are the foundation of my day and it helps me take a breath before the runaround begins.
Find a book of devotions and stick it in your bathroom
Yes, the bathroom.
It is the last vestige of solitude in most homes.
Read. Pray. Maybe sing. However the Spirit may move you.
Find a permanent place
The words of The Shema from Deuteronomy 6:4-9 in Hebrew are etched in the concrete walk approaching my front door. I know – fancy.
The Shema is a declaration of faith in God and it helps me remember what's important both as I'm heading into the world and coming home to my family.
Is there a place for those words on your threshold or in your mudroom, to remind you to live your faith in God in thought, word, and deed?
Seek little moments for prayer
An informal devotional practice that I have come into the habit of doing is praying through things.
When I pick up my phone, I pray for those people who mined the minerals from which it is formed.
When I chug down my milk, I pray for the dairy farmers who tend to their cows regardless of milk prices.
When I grab my mail, I ask a blessing on my mail carrier, even when it's bills.
These moments help me remember that we are all connected as children of God and our stories are all interwoven.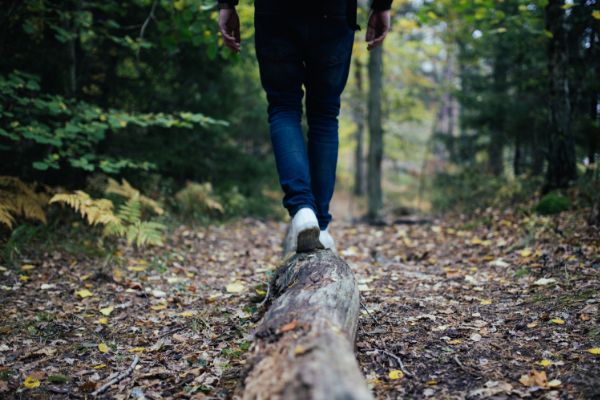 Be one with nature
All those people who have been telling me they don't go to church because they find God in nature . . . turns out they're right.
God is certainly in nature!
It's one of my favorite places to call on God. (Funny thing is, God is out there on a Tuesday, too, so you can still get to church on Sunday!)
Walk in the woods. Run on the street. Take a stroll with the dog. Look up at the stars to remember how small we are.
To close, I will be the first to admit I do not present as pious or holy. When people ask me what I do for a living and I say I'm a pastor, 97 percent of the time the reaction is surprise. I'm okay with that. My expression of faith may be very low to the ground, but it is the faith that God has given me.
Go and find (and use) what works for you.