Sundays can be hectic. As a ministry leader, you have to get you and your family ready. Then, you have to arrive early to church and do some quick preparation before your students start filing in. The time you have with your class goes quickly. It's hard to get to know the parents of your students, let alone the children and youth themselves, in such a short amount of time.
A new way of communicating
What if there was another way? Digital communication is how we reach each other these days. Everything from personal emails to sending e-cards for birthdays and graduations to instant messaging on Facebook. They are a way to connect with each other across the miles and in our busy lives. And, by leveraging digital tools for your ministry, you, too, can build connections for a more people-centered ministry.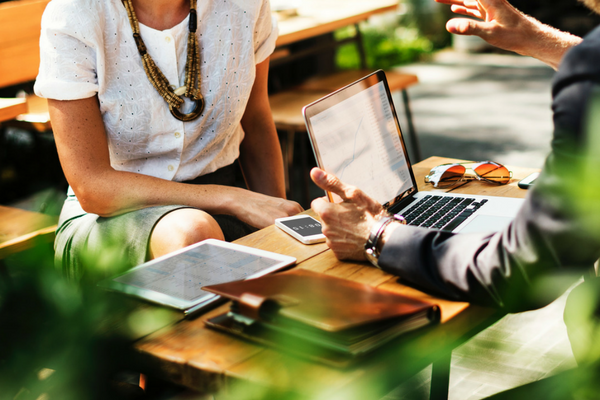 Digital tools for people-centered ministry
There are many digital tools that can help you create a more people-centered ministry. In using these digital tools, you are extending church to home, keeping parents and youth informed, getting to know them, and giving them resources to grow their faith more deeply.
Some digital tools you can use to help build a more people-centered ministry include:
Social media
Whether you are using Instagram, Facebook, or Twitter, you can create a space for connecting church members together. And you can use it as a platform to share important information! Instagram can become a place of daily inspiration, and on Facebook you can start conversations to support your ministry. In turn, you create a space of constant connection that continues the conversation outside of Sunday school, youth group, or adult Bible study.
Podcasts
Dive deeper into the Bible by listening to fun, pressure-free, lively conversations during the week. Podcasts have become a favorite for all ages—in fact, it's reported that Apple Podcasts alone has had more than 50 billion all-time episode downloads!
For your students, it gives them an option to continue faith formation outside of church. And it gives them an opportunity to do so with their families. As a ministry leader, podcasts can give you tips and inspiration, and offer insight into how to handle difficult topics or challenges that you face in your role.
(P.S. Have you checked out our Youth Minstry Podcast yet? Learn more here!)
E-newsletters
You can send monthly newsletters digitally to the families of students in your class to share key development and faith milestones.
But, what would you share? That's a common question we hear from ministry leaders—the opportunities are endless! Some ideas:
Include a short summary of the story you are teaching that week with a corresponding Bible verse.
Preview your upcoming calendar for important events and milestones
Ask parents and students questions like, "What is important to you for your child's faith learning?" or "Which Bible story would you like to learn about next, X, Y, or Z?"
Create a feature on a volunteer and give them the recognition that they deserve.
Extend your curriculum and key learnings from church to home by including ideas for how families can cover lessons at home.
Interactive lessons
From social media to games, our mobile devices are becoming an extension of our arms! Recent data shows that the average U.S. consumer spends at least five hours per day on mobile devices.
This has significantly changed the way that people learn, and the way that our leaders need to teach. Interactivity has become a staple component for courses—offering a deeper level of understanding for students while they have fun doing something new.
What are some ways you can build interactivity into your ministry? There are a few new ways to do so:
Trivia platforms like Kahoot have become popular, giving you an option to create a quiz that people can take right on their phones—and see how they compare against everyone else in the class.
Participation has gone beyond just discussion. Many people are finding that polling software, like Poll Everywhere, encourages constant engagement and participation—even among those that prefer a quieter approach to learning.
Printed resources like student handbooks and journals may feel old school compared to digital resources. But they spur interactivity and remain an important component to drive discussion and engagement among your students. Using a hybrid strategy with digital leader materials and printed student resources offers flexibility. It's an option to use digital tools to drive interactivity.
For today's church, digital resources offer essential tools to help your children, youth, and adults grow their faith with interactive components that they experience in other parts of their lives.
Learn more about how to grow your church by using technology in our FREE eBook! Download here.