ABOUT THIS BIBLE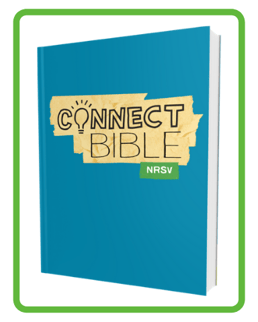 What's Inside: A full-text New Revised Standard Version (NRSV) Bible with additional feature content
Highlights: Every lesson in the Holy Moly and Connect has corresponding content in this Bible so kids can make connections to scripture from the video. Available in both hardcover and softcover.
Illustrations: The feature content supports Holy Moly and Connect lessons by using illustrations and icons that kids easily recognize from the lesson videos. Fifteen illustrated maps and a pull-out chart encourage kids to explore biblical lands and world history as they dive into Bible stories.
Best for These Ages: Third through sixth graders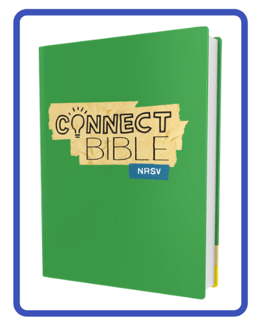 Pair with This Curriculum: Holy Moly and Connect
Fun Fact: When the Connect Bible was designed, developer Bethany Stolle envisioned preteens using sticky notes (or their fingers) to mark the four places where they would look up the texts for each Connect lesson. Can't you just picture this Bible in action?
To Learn More: Click HERE to learn more about the Connect Bibles both hard and soft cover. Check out the Connect resources HERE to learn more.
Quick Quiz: Which Sparkhouse Bible includes a foldout timeline of historical events that align with biblical events? ANSWER: Connect!
Thanks for reading about the Connect Bible. To learn more about other Sparkhouse Bibles, follow the hashtag #meetyourBible on social media.