How often do you invite kids to read from the Bible?
How often do all kids in Sunday School have a Bible in their own hands?
How often do you see kids coming to church with their own Bibles?
How many children's ministry leaders aspire to answer "every day" or "every week" to all three of those questions? Are you one of them? If you're already making regular usage of kids' Bibles a reality in your church, great! You've overcome an obstacle that many of your colleagues face every day and every week. If you aspire to make it happen "someday" here are five ideas to help you get closer to that reality:
Support kids' faith journeys with milestone Bibles
Parents want their kids to hear, read, and know God's Word. They trust you to help identify Bibles which are appropriate for kids at every age and stage along their faith formation journey and are consistent with your church's theology. Whether your church is able to present them as gifts or make them available for parents to purchase, be their Bible guide. Milestones can include board book versions at birth or baptism, or story Bibles in preschool to celebrate starting Sunday School. They can be full text children's study Bibles to honor third graders' increasing abilities. Or full text adult Bibles to support youth in confirmation or recognize graduates going into the world.
Honor faith formation with personal kids' Bibles
Using a classroom copy of a Bible compared to kids opening their own personal Bible offers quite the different experience! Personal copies encourage personalization and reinforce each kids' uniqueness as a child of God. However they mark up the exterior and/or interior, they are making it their own. Every doodle, note, sticker, or highlight made in a kids' Bible is a mark along their own faith journey—a personal journey with God the Father, Son, and Holy Spirit.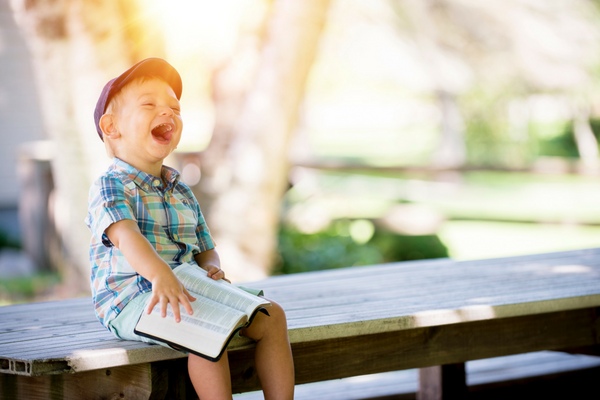 Invite others to fund gift Bibles
Look beyond your children's ministry budget to help purchase gift Bibles for kids. Tell adult small groups about your desire to gift kids' Bibles. Show them the Bibles and invite them to sponsor a milestone class or one kid. I know of one Ladies' Circle at a congregation that gifted new story Bibles for their preschool–Grade 2 kids and it was so rewarding to see them at church and in worship carrying their Bibles!
Track progress in visible, yet fun, ways. For instance, you can post empty paper hands on a bulletin board (a fun activity during Sunday school!) and add a Bible cover image to the palm for each Bible purchased to show progress towards your goal. Explore memorial opportunities as ways to honor the legacy of members of your congregation.
Role model your own "bring your Bible" habit
Points and reward systems may provide positive reinforcement to increase the number of times kids bring their own Bibles to church. I've even heard the word bribe applied to this approach. Ultimately, we are trying to help kids develop a lifelong habit. If we want kids to bring their Bibles to church on a regular basis for worship, study, and events, we need to model that behavior ourselves. Our actions often speak louder than our words—and kids are always watching.
Increase Bible access and use
Take a walk around your church. Check that you have a variety of Bibles in a variety of easy access places for kids (and adults). Include children's story and study Bibles in your worship space. Put board book Bibles in quiet bags and in gathering spaces. Encourage families to place Bibles in multiple spots at home. Make recommendations regarding Bible apps, websites, and e-versions you use and trust. Share why you recommend them and feature fun and easy ideas for increased Bible activities in bulletins, newsletters, and social media.
A child with a Bible within easy sight and reach at church and home is much more likely to open, read, and know God's Word. If we want kids to get into the Bible, we first need to get Bibles into their hands.
If you have a story to share about how you make kids' Bibles a priority, please let us know in the comments below so we can share with others!